2 Easy Ways to Create/Register the Latest Indodax Account – Digital assets are currently the preferred investment place and for those who just want to enter the crypto world, you can use the services of Indodax and below is a complete tutorial on how to create/register an Indodax account.
As we know that Indodax is one of the largest cryptocurrency exchanges or trading platforms for crypto assets in Indonesia and already has more than 2.9 million verified members. You can buy and sell crypto assets such as Bitcoin (BTC), Ethereum (ETH), Ripple (XPR) and others.
You must know that investing in Cryptocurrency has a high enough risk, so use money that is not for daily needs. Make the crypto assets that you buy later as future savings. For beginners, you can directly register an account at Indodax via this link bit.ly/iList-indodax . But, if you're still confused, you can read the steps on how to create an Indodax account on the Android/iOS Hp Application or on a PC/Laptop
How to Register Indodax on HP (Application)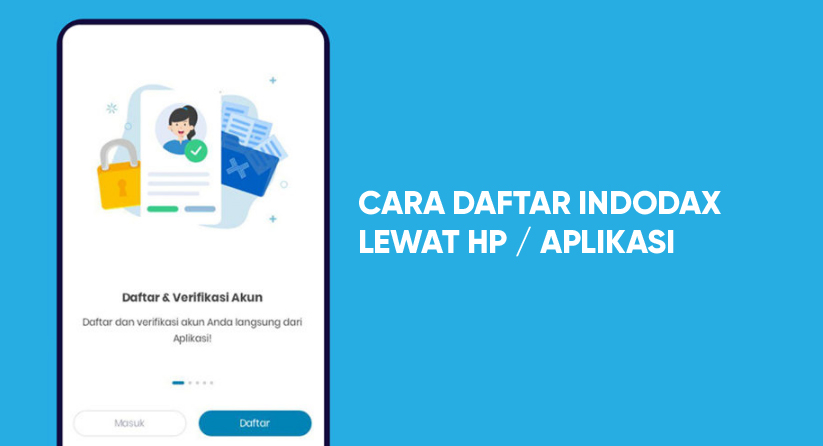 The following are the steps for registering Indodax via an Android or iOS iPhone:
Download the Indodax application first here

Open the Indodax Mobile App and select the Register button to create a new account

Continue to fill in the forms / fields provided such as Username, Email, Password and Telephone Number

At the bottom, tick and select I agree to the Terms and Conditions so I can continue the account creation process

Then Click Create Account and there will be an incoming email for verification (click the link in the email to complete verification)

After that you can directly login in the Indodax application with the Email and Password that was created earlier

Confirm your number via the SMS we sent and enter the SMS PIN you received
TRENDING: 
Free Forex Trading No Deposit Capital 2021
Done, you already have an Indodax account to be able to buy crypto assets by making a deposit first.
Register Indodax Via Laptop (Website)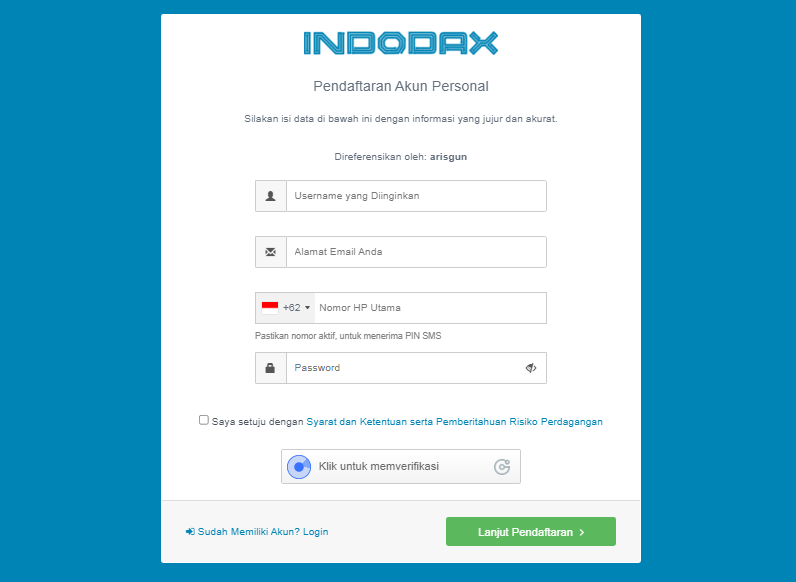 The second way you can try to register an Indodax account is through the official website at Indodax.com which can be accessed directly from a laptop using your favorite browser (Chrome, Mozilla and others). As for the list of steps, you can check the following:
Registering an Indodax account via a laptop is really suitable for those of you who are not comfortable typing a lot from a cellphone, because by using a laptop or Windows PC you can freely and feel comfortable when writing down the required data when registering an Indodax account.
Open Chrome or Mozilla Browser and go to the indodax list website bit.ly/i List- 

indodax

Then fill in the form of honest and accurate data and information such as the desired username, active email address, active main cellphone number and password to login at Indodax.

Make sure you check I agree to the Terms and Conditions and the Trading Risk Notice

After that, click to verify the list process by sliding the puzzle until it fits into the empty hole.

If successful, continue to click the "Continue Registration" button to complete this process.
TRENDING: 
These are 3 Crypto Assets Similar to Dogecoin that you deserve!
Just like how to register Indodax through the application on an Android phone or iOS iPhone, you will get a verification email in the form of a link that must be clicked. After that, you can login.
After the registration process is complete, you can login at Indodax but your account status is still Unverified. In order for your account to be verified, you can follow the verification process flow or you can also check the tutorial at help.indodax.com.
Oh yes, if you have successfully registered with Indodax via this laptop, then you don't need to create a new account again in the Indodax application, because data from the laptop can also be logged in for the application.